DanceClassMusic.com - Jay Distributors BACK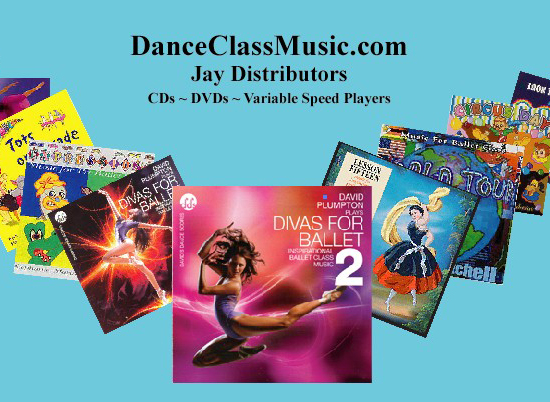 Jay Distributors and DanceClassMusic.com offer a wide selection of music and video titles for dance instruction.
All the music titles are designed to be used in a dance class. They do not contain singing or vocal instruction. They usually contain solo piano music and are arranged for a complete dance class.
Each piece of music starts with a clear introduction and holds a steady beat. Most of the video titles demonstrate teaching techniques and show dancers in a dance class. Many of the video titles are presented in a follow along format.
David Plumpton's West End to Broadway 3 (WB09C)
The third volume of familiar show tunes by David Plumpton contains music from some of the most recent shows on Broadway and the West End. Each exercise at the Barre and Center has several tracks so you can use different music for the same exercise. This will keep the dancer listening to the music by making them do the same step to different music. With several selections for Allegro and Pirouette work, you will never run out of familiar melodies for your ballet class. Wicked, Oliver, Cabaret and Billy Elliot are just a few of the shows represented on this CD.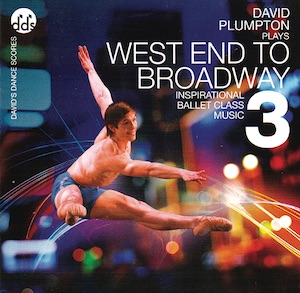 Ballet Class Music 3 by Andrey Klemm (#AK007C)
Sylvain Durand again graces the ballet world with his third album of class music. The accomplished pianst teams up with Andrey Klemm, ballet master for the Paris Opera Ballet, who elegantly crafts a complete intermediate class using this powerful music. The CD features 56 tracks with several repeated melodies for barre followed by center work, which includes music for adagio, pirouettes, jumps and turns. The class concludes with seven selections for pointe work.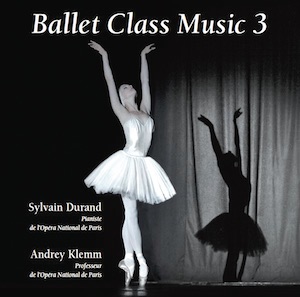 Contact
Jay Distributors
PO Box 293924
Lewisville, TX 75029