En Pointe Enterprises BACK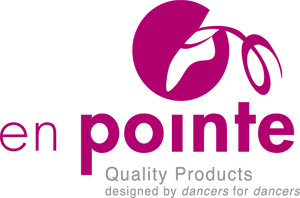 Dance equipment is our business! En Pointe is a leading manufacturer and distributor of professional ballet dance equipment for ballet schools, dance companies, yoga and fitness studios across North America.

Our products were designed by dancers for use by dancers. The En Pointe ballet barre incorporates strength with portability and ease of transportation. We are committed to the design, manufacture and distribution of high quality dance equipment.

The En Pointe products include professional ballet barres, portable dance barres and wall/floor mount barres and brackets. We also manufacture barres and brackets suitable for the rigorous demands of the fitness industry. En Pointe is the distributer for Stagestep Flooring and also other dance equipment such as glassless mirrors and staging.

Portable Ballet Barre - PortaBarre™
A portable ballet barre is a must for any dancer on the go! The En Pointe PortaBarre™ is truly a unique
portable dance barre. Our dance barre is very strong and yet light weight. Our portable dance barre assembles in seconds with an internal double button interlocking system. This portable ballet barre works well for home studio, dance teachers' demonstrations, competitions and where space is limited. Just unsnap the PortaBarre™ and place in its custom-made padded carrying case with handle and take to classes or for travelling.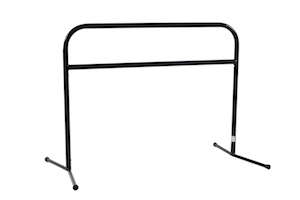 Freestanding Ballet Barre - StudioBarre™
Our freestanding ballet barre is made of high quality yet light-weight aluminum. With our engineered design and use of the highest quality materials, crossing bracing is not required on any of our StudioBarres. It is available in all aluminum or aluminum/wood combination. No tools are necessary to assemble our all aluminum freestanding ballet barre. To assemble the aluminum wood combination ballet barre, a standard screw driver is required. Industrial powder-coat finish for a chip, scratch resistant surface and will endure the demands of any ballet company or dance studio. StudioBarres are available in white, gray and black or the option of powder-coated aluminum ends with wood-finished barres. Our wooden barres are crafted from hemlock and have three coats of polyurethane applied to provide a smooth finish.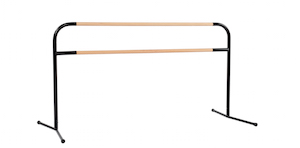 Glassless Mirrors
Our glassless mirrors will never shatter! There is no need to worry about accidents with broken glass, eliminating client injuries and liabilities. Glassless mirrors are much lighter than conventional mirrors and extremely portable. The glassless mirrors are made of a high optical grade, very tough metalized film somewhat similar to Mylar®. A 4'x6′ glassless mirror panel weighs less than ten pounds. Glassless mirror panels are not glued down and can easily be suspended from the ceiling with wire, nylon line or affixed with "Velcro".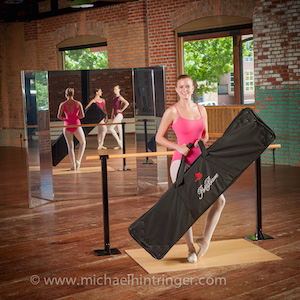 Stagestep Flooring
Stagestep features a full line of specialty flooring in wood and vinyl, portable and permanent floating wood subfloors, installation and maintenance products for dance and theater. Stagestep Roll-Out Collections are designed for every kind of dance activity: ballet, modern, tap, folk, hip-hop and ballroom. Not every floor surface is perfectly suited to all dance forms. So, the first question is, what kind of dance will be performed, practiced or taught on your floor? Stagestep's Timestep Collection is the most versatile flooring and it is well-suited for tap both in terms of durability and acoustics. The Bravo Collection is great for ballet and modern dance while still economical and easy to maintain. Foam-backed flooring such as Dancestep and Quietstep provides an extra cushion. Dancestep can be laid directly on a concrete floor without the use of a sprung or floating subfloor. Quietstep is highly rated for most dance forms with the exception of tap.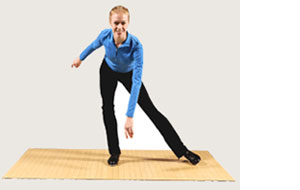 Wall/Floor Mount
Ballet barres for wall mounting are available in wood barres with aluminum brackets or all aluminum. The ballet barre can be custom made to any length depending on your dancing needs .All brackets and aluminum ballet barres are made of high-grade aluminum and are powder coated for a durable finish. The hemlock wood ballet barre is finished with three coats of polyurethane. The EnPointe Wall-Mount Barre is attached to the brackets by underpin screws (supplied). The bracket for the finished ballet barre is ¾" wide, 8" deep, projects 8" from back to front and has pre-drilled holes for mounting on studs or a backing board. Wall-mount brackets can be sold separately. Barres can be mounted on top to form double barres. All wall-mount barres 9' or over have a custom join to provide additional strength, as well as ease for shipping. Floor mounted brackets provide the support you require in those difficult areas such as in front of a window or a mirror where a wall bracket cannot be secured. Several options are available for both the wall and floor mounted brackets from single to double, dance or for barre fitness. Floor mounted brackets are available in standard height as well we can custom make any desired height.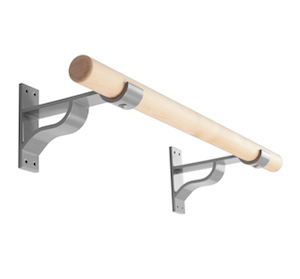 Contact
1-866-491-9019
Fax: 250-764-6220
info@en-pointe.com