Pretty Girl Cosmetics BACK

Pretty Girl Cosmetics offers performance makeup ranging from dramatic to natural and every variety in between. Each team has their own unique ideas on how to wear their makeup for performance season. Makeup and hair completes the stage appearance and draws the audience in to the costume details. Every team wants their own signature look. Contact Pretty Girl Cosmetics design team to create your age appropriate makeup kit this year.
Pretty Girl Cosmetics a div of ColorOn Professional offers the only Instant Press On Eye Shadow in market with a unique, innovative, and patented approach to applying makeup in an instant.


-This product transfers color and creative designs to the eyelids or face in seconds.
-There is no mess, no fuss, no makeup brushes or skill necessary.
-Each application is completely hygienic, and delivers a professional, flawless application every time.

This product that will revolutionize the way the Dancers apply sweat proof, smudge proof makeup in less than five minutes! Let our design team create a custom eye design to match your team colors or custom face paint decal.
The possibilities are endless when you create a Custom Eye Shadow Palette or a Mineral Shimmer Makeup Kit. Choose the colors and products you want in your custom kit or palette. Create a subtle brown, black, purple or pink palette or makeup kit designed for your studio.
Create a makeup kit with by mixing and matching products to complete your performance makeup look. For added sparkle, advertise your studio by customizing your makeup bag with your studio rhinestone or sublimated logo.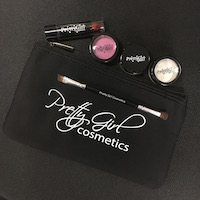 Contact
Colleen Dugan
Pretty Girl div of ColorON Beauty
716-803-3442