24Seven Dance Convention BACK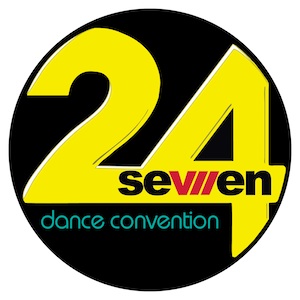 Director
Danny Wallace
For the non-stop dancer! Our convention and competition give dancers an opportunity to work with some of the best choreographers, dancers and teachers in the industry. Combine amazing educators with state-of-the-art technology and a streamlined administrative team, and you get a great weekend of dance! We also strive and give the dancers every opportunity to do what they love to do most, dance! We offer Friday night classes and make sure dancers are exposed to more than just a ballroom!
Main Faculty
Sonya Tayeh, tWitch, Danny Wallace, Anthony Russo, Brooke Pierotti, Jess Hendricks, Lauren Adams, Francisco Gella, Randi Kemper, Hefa Tuita, Kayla Kalbfleisch and Kyle Robinson
Dates and Venues
Oct. 21-23 Knoxville
Oct. 28-30 San Diego
Nov. 4-6 Chicago
Nov. 11-13 Reno
Nov. 18-20 San Antonio
Dec. 2-4 Birmingham
Dec. 9-11 Kansas City
Jan. 6-8 Rochester
Jan. 13-14 Provo
Jan. 20-22 Billings
Jan. 27-29 Denver
Feb. 3-5 Meadowlands
Feb. 10-12 New Orleans
Feb. 17-19 Monterrey (Mexico)
Feb. 24-26 Los Angeles
Mar. 3-5 Detroit
Mar. 10-12 Pittsburgh
Mar. 17-19 Glendale
Mar. 24-26 Atlanta
Mar. 31-Apr. 2 Tysons Corner
Apr. 7-9 Bellevue
Apr. 21-23 Houston
Apr. 28-30 Las Vegas
May 5-7 Dallas
May 12-14 Orlando
May 19-21 Santa Clara
Contact
24Seven Dance Convention
5446 Satsuma Ave.
North Hollywood, CA 91601
818.432.6085