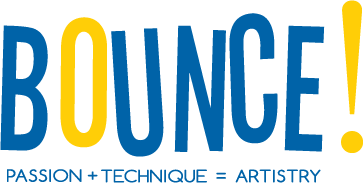 Directors
Christopher Recchia, Kimberly Recchia, and Roger C. Jeffrey
BOUNCE! has combined DANCE, VOCAL, and DRAMA in the Convention Scene.
 Each BOUNCE! event includes a World Class Workshop with skilled, leading teachers. BOUNCE! will Inspire You!
BOUNCE! also offers an Outstanding Competition with Honorable,
Impartial Judging in an Admirable and Nurturing Environment. BOUNCE! is Time Honored, Organic and Original. BOUNCE! will excite Dancers, Singers, and Actors of all Levels and Ages.
 At BOUNCE! our CAST MEMBERS are committed to their craft and are looking forward to collaborating with young artists, giving them a matchless experience in DANCE, VOCAL, and DRAMA.
DANCE [Ballet, Modern (Graham, Horton, Limon), Contemporary Jazz, Tap, Hip-Hop, Musical Theater], VOCAL, and DRAMA. Win Trophies, and Scholarships! Ballet class will have live piano accompaniment. Modern class will have live percussion.
Main Faculty/Judges
DANCE: Lisa Hopkins, Darrell Grand Moultry, AC Ciulla, George "Geo" Hubela, Camille A. Brown, Clifford Williams, Gregory Sinacori, Jean Emile, Jen Golonka, Thang Dao, Anthony LoCascio, Charity DeLoera, Michelle Benash, Ashley Rich, Matthew Prescott, Jimmy Tate, Christopher L. Huggins, Asia Dickens, AntBoogie, Jerry Rose, Adrienne Canterna, Stavroula Kaburakis, Brice D. Vick, Ray Mercer, Yusha-Marie Sorzano, Lisa Engelken, Kelby Brown, David Sincere
DRAMA: Jim Moody, Joey Elrose
VOCAL: Alexis Martin, Amelia DeMayo
ADDITIONAL JUDGE: Joe Antony Cavise
Dates and Venues
East Rutherford, NJ
January 28-29, 2017

Atlanta, GA
March 4-5, 2017

Niagara Falls, NY
March 11-12, 2017

Pittsburgh, PA
March 18-19, 2017

Orlando, Florida
April 1-2, 2017

Nationals
TBA
Contact
BOUNCE!

P.O. Box 844

Point Pleasant Boro, NJ 08742
Office 732-664-8170
bouncecompetition@gmail.com
www.bouncecompetition.com