JUMP Dance Convention BACK

Director
Gil Stroming
JUMP is the largest dance convention in the world, touring to 27 U.S. cities and 5 international cities every season. Each event includes a top-rate workshop, with more class time offered per city than any other convention in the industry. JUMP also offers first-class competitions with fair, credible judging in a fun and supportive environment.

JUMP is high energy, fresh and innovative! It is a change from the assembly line of dance competitions and conventions across America. Most importantly, it's an inspiring educational event for all levels and ages.

JUMP is THE trendsetter in the industry. JUMP was the first dance convention to bring out a full video crew to every city complete with large projection screens. JUMP originated the "Music Video Class." Plus, it was the first to provide each dancer with a personalized "JUMP Handbook" and started the "Teacher's ONLY" critique DVD. If you are looking for something alternative, JUMP is the place to be!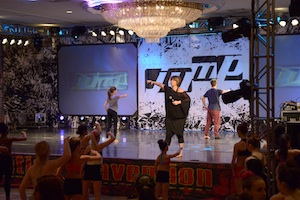 Main Faculty
Mia Michaels, Mandy Moore, Teddy Forance, Misha Gabriel, Wildabeast, Bobby Newberry, Katy Spreadbury, Nick Lazzarini, Al Blackstone, Mike Minery, Melanie Moore, Andrew Winghart, Kirsten Russell
Dates and Locations
Sept. 23-25 Miami
Sept. 30 - Oct. 2 Toronto (Canada)
Oct. 7-9 New Orleans
Oct. 14-16 Winnipeg (Canada)
Oct. 21-23 Mexico City (Mexico)
Oct. 28-30 Albany
Nov. 4-6 Greenville
Nov. 11-13 Minneapolis
Nov. 18-20 Monterrey (Mexico)
Dec. 2-4 Las Vegas
Dec. 9-11 St. Louis
Jan. 6-8 Kansas City
Jan. 13-15 Washington, DC
Jan. 20-22 Chicago
Jan. 27-29 Houston
Feb. 3-5 Dallas
Feb. 10-12 Philadelphia
Feb. 17-19 Pittsburgh
Feb. 24-26 Phoenix
Mar. 3-5 Westminster
Mar. 10-12 Portland
Mar. 17-19 Orlando
Mar. 24-26 New York
Mar. 31 - Apr. 1 Provo
Apr. 7-9 Dearborn
Apr. 21-23 Santa Clara
Apr. 28-30 Buffalo
May 5-7 Atlanta
May 12-14 Los Angeles
May 19-21 Providence
May 26-28 Honolulu
Jun. 2-4 San Jose (Costa Rica)
Contact
JUMP Dance Convention
5446 Satsuma Ave.
North Hollywood, CA 91601
Phone 818.432.4395
info@jumptour.com