Revolution Talent Competition BACK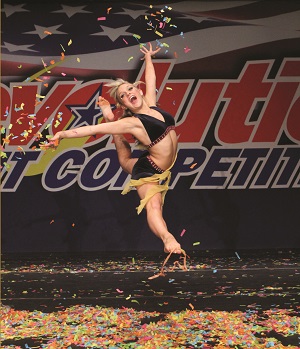 Revolution Talent Competition was established in 2008.
Our goal is to provide an affordable dance event that prides itself on customer service and excellence.
We offer 3 different levels with a separate scoring scale for each level.
In just 8 short years we have become one of the fastest growing dance events in the industry today.
Our judges have a variety of expertise in all areas of dance. With backgrounds as varied as Broadway, commercial dance, dance studio owners, and industrial professionals.
Dates and Venues
Week #1 - Feb 3-5
Indianpolis, IN
Week #2 - Feb 10-12
Baton Rouge, LA
Week #3 - Feb 17-19
Englewood, NJ
Chicago, IL
Cincinnati, OH
Week #4 - Feb 24-26
Detriot, MI
Week #5 - Mar 3-5
Baltimore, MD
St. Louis, MO
San Diego, CA
Pittsburgh, PA
Week #6 - Mar 10-12
Des Moines, IA
Manahawkin, NJ
Buffalo, NY
Riverside, CA
Week #7 - Mar 17-19
Columbus, OH
Lancaster, PA
Colorado Springs, CO
Charlotte, NC
Week #8 - Mar 24-26
Kansas City, MO
Joplin, MO
Orlando, FL
Week #9 - Mar 31-Apr 2
Atlanta, GA
Biloxi, MS
Greensboro, NC
East Brunswick, NJ
Week #10 - Apr 7-9
West Memphis, AR
Ft. Walton Beach, FL
Week #11 - Apr 21-23
Chicago, IL
Woodbridge, VA
Omaha, NE
San Jose, CA
Waterbury, CT
Week #12 - Apr 28-30
Fresno, CA
Tulsa, OK
Akron, OH
Grand Rapids, MI
Week #13 - May 5-7
Houston, TX
Long Island, NY
Sewell, NJ
Nashville, TN
Week #14 - May 12-14
Portland, OR
Dallas, TX
Ft. Lauderdale, FL
Spartanburg, SC
Hot Springs, AR
Week #15 - May 19-21
Springfield, MA
Detroit, MI
San Mateo, CA
Minneapolis, MN
Nationals
Long Beach, CA - June 24-29
Chicago, IL - July 4-8
Ocean City, MD - July 25-29
Contact
Phone 240.412.1948
PO Box 234
Crownsville, MD 21032
RevolutionTalent.com