Star Talent Productions BACK
Star Talent Productions was created to provide a positive dance environment for both recreational and competitive dancers. Our goal is to provide you with an atmosphere that is fun, organized and fair for our dancers, teachers and parents.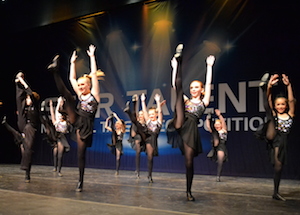 We believe that competition is about becoming the best dancer you can be in performance and attitude.
At Star Talent we pride ourselves in being a competition for every dancer. We offer 3 levels of competition in 6 age divisions. Additional Studio Awards include large trophies, banners, plaques and Gift Cards!
Main Faculty/Judges
At Star Talent we will always use judges who are experienced dance educators for all ages and ability levels. We are excited to continue working with Impact Dance Adjudicators in 2017.
2017 Competition Schedule:
Spartanburg, SC
Feb 25-26, Converse College
Wilkesboro, NC
March 4-5, The Walker Center
Louisburg, NC
Mar 10-12, Louisburg College
Roanoke, VA
Mar 10-12, The Jefferson Center
Batesburg, SC
March 18-19, District 3 Fine Arts Center
Sevierville, TN
March 25-26, Sevierville Convention Center
Charleston, WV
Apr 1-2, Municipal Auditorium
Woodbridge, VA
April 1-2, Woodbridge HS
High Point, NC
Apr 7-9, High Point Theatre
Carrollton, GA
Apr 22-23, TBA
Portsmouth, VA
May 5-7, Willett Hall
Greensboro, NC
May 5-7, Carolina Theatre

Nationals:
Greensboro, NC
July 12-16
Carolina Theatre
Contact
336.905.8821
1589 Skeet Club Rd
Ste 12, Box 105
High Point, NC 27265
info@StarTalentProductions.com