WILD Dance Intensive BACK
Wild Dance Intensive is designed to motivate, educate, excite, and thrill the performer, student, and dance teacher like no other dance convention.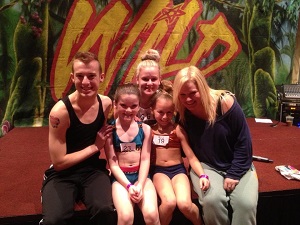 Wild's faculty is cutting edge and ready to inspire. The production value is over the top and will gear up your inner soul. Wild was unleashed to the dance community in 2006 and has been going strong ever since. We sincerely hope you will join us on a Wild Tour.


WE WILL NOT DISAPPOINT YOU! BE THERE!!
Faculty
Tokyo, Marty Kudelka, Ade Obayomi, Mollee Gray, Marinda Davis, Lance Guillermo, Jill Wollins, Frankie Zulferino, and Marinda Davis.
Dates and Cities
Week #1
Detroit, MI

October 2 2016
Cobo Center

Week #2
Ft. Lauderdale, FL

October 9 2016
Ft. Lauderdale Convention Center

Week #3
Orlando, FL

October 16 2016
Orlando World Center Marriott

Week #4
Atlantic City, NJ

October 23 2016

Atlantic City Convention Center

Week #5
Meadowlands, NJ

October 30 2016

Hilton Meadowlands

Week #6
Cleveland, OH
Week #7
Little Rock, AR
Week #8
Washington, DC
Week #9
Kansas City, MO

November 6 3016

November 13 2016

November 20 2016

December 4 2016
Cleveland Convention Center

Statehouse Convention Center

Sheraton Tysons Hotel

Kansas City Convention Center

Contact
Phone 240.412.1948
2170 Old Washington Blvd
Waldorf, MD 20601
www.wildaboutdance.com