A WISH COME TRUE BACK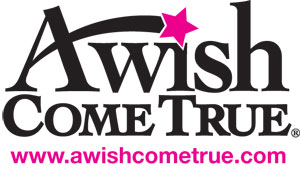 A Wish Come True is dedicated to providing the largest selection of high quality, USA made, dance costumes for recital and competition.
Parent, teacher and dancer-friendly costumes are expertly constructed for unsurpassed fit, comfort and security while performing.
13 size options and 7 exclusive collections, - including Dance, Competition, Dance Values, Dance Team, Color Guard, Holiday and In-stock - offer extensive styling options for every age, size and genre included in your performance.

Contact us for your free catalog.
1-800-755-2248
wishweb@awishcometrue.com
Costume Examples: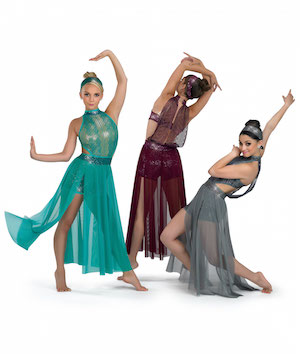 AFTER THE STORM
17721
Foil stretch lace over foil lycra and lined sequin spandex shortall. Attached mesh skirt. Lace placement may vary. Hair scarf included. Lyrical dance costume made in the USA.
Colors: 67 Gray, 76 Jade, 89 Burgundy
Sizes: SC, ISC, MC, IMC, LC, SA, MA, LA, XLC, XXLC, XLA, XXLA
www.awishcometrue.com
ON WITH THE SHOW
17687
Lined hologram sequin mesh bodice and topskirt over spandex leotard. Attached sequin trimmed organza tutu and ruffles. Attached satin bow. Flower on bow barrette included. Add shoes bows sold separately, to complete this tap dance costume. Made in the USA.
Colors: 28 Pink, 54 Aqua, 69 Lavender
Sizes: XSC, SC, ISC, MC, IMC, LC, XLC, XXLC
www.awishcometrue.com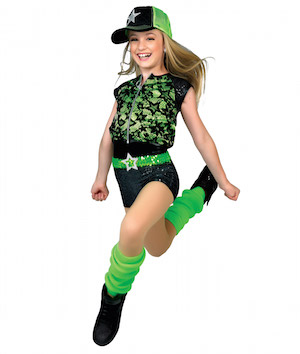 WRITTEN IN THE STARS
17729
Flat foil and sequin stretch denim shortall with sequin belt and star buckle. Separate satin backed lace vest with sequin stretch denim cap sleeves and zipper front. Hairband included. Hat and leg warmers sold separately. Hip hop dance costume made in the USA.
Sizes: SC, ISC, MC, IMC, LC, SA, MA, LA, XLC, XXLC, XLA, XXLA
www.awishcometrue.com
Contact
Renee Stojek
Phone 800-755-2248, ext. 241
Fax 800-755-9360
Email wishweb@awishcometrue.com
www.awishcometrue.com