CURTAIN CALL BACK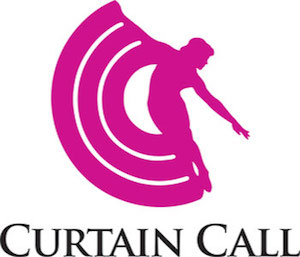 Do you remember the first time you stepped on stage, that very first dance costume you wore, all glitter and tulle, shining in the lights? How you felt amazing, like the light itself was coming from you—and you could have just danced forever. That feeling, that moment, is exactly why we do what we do. We're a company that truly believes your performance is our passion. In fact, your performance inspires us just as much as you're inspired by our costumes. From our base in York, Pennsylvania, our team stitches a lot of pride into each and every Curtain Call® costume, handcrafting every design, ruffle and detail so that you and your dancers dazzle on stage.
Curtain Call has been part of some of the most well-known events such as Macy's Thanksgiving Day Parade, The Super Bowl, numerous New Year's Day half-time shows and the talented Kilgore College Rangerettes.
Our passion goes beyond each costume we create; service and customer satisfaction is something we take very seriously at Curtain Call. We've expanded our Relationship Manager team to reach new areas in the country. All former dancers themselves, they work closely with you at your studio to find out what you need and support your vision.
We are committed to delivering innovation, excellence and integrity to you, in all that we do. Our craftsmanship is all about supporting the art of dance, to help dancers showcase their hard work and to make sure they feel confident, strong and beautiful. We love being a part of your performance, and as the audience applauds, in a way, we're there too, cheering you on.


Costume Examples: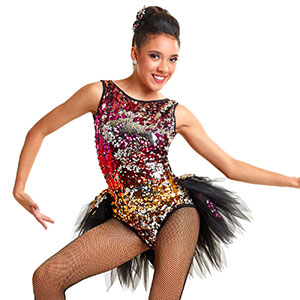 Style #C7-J5076
Jagged Edge
Sequin poly/spandex, mesh, and poly/spandex leotard with sequin poly/spandex and tricot jagged back skirt. Sequin poly/spandex and tricot headdress with clip are included! Here is a look that is sure to turn heads while you shimmy and shake! Turn up the heat in this sparkling sequin and mesh leotard with sequin jagged back skirt. To complete the look, showoff the included sequin hairclip.
www.curtaincallcostumes.com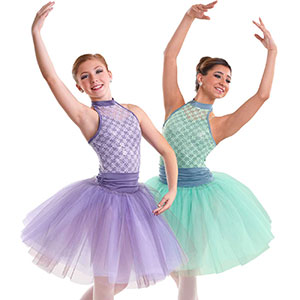 Style #C7-E1657
Before Dawn
Nylon/spandex leotard with sequin lace front and back bodice overlay, nylon/spandex waistband treatment, and attached tulle, tricot and net skirt. Crystal and pearl barrette is included! Beautiful sequin lace design has a sweetheart neckline leotard attached to create an elegant look. Includes attached adjustable straps, and layered tulle, tricot and net romantic length skirt that features glitter free fabric which provides all of the sparkle with no mess! A crystal and pearl barrette is included for the headdress. Available in two colors.
www.curtaincallcostumes.com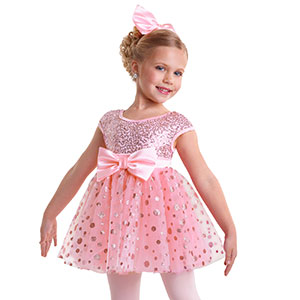 Style #C7-E1529
Join the Party
Front lined pink sequin poly/spandex leotard and stretch satin with waist treatment and bow trim. Attached tricot skirt with tricot glitter dot tulle top skirt. Cuddle Me Bear and stretch satin bow barrette are included! She'll look cute as a button with these bows, dancing on her ten little toes. The only thing more adorable than her polka dotted skirt will be the included Cuddle Me Bear, sporting her own pink satin bow, of course.
www.curtaincallcostumes.com
Contact
Curtain Call
333 East Seventh Avenue
York, PA 17404
1-888-808-0801 (Phone)
1-800-839-1039 (Fax)
curtaincall@performgroupllc.com
www.curtaincallcostumes.com